Administration
Martin Gamon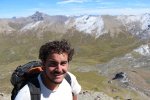 Email
Martin Gamon is a student at the

Institute for Prehistory and Early Medieval History and is currently writing his diploma thesis on ALS prospection of the alpine valley of Unterengadin/Canton Grisons, Switzerland.
During his studies he excavated and prospected in Austria, Italy, Liechtenstein, Norway and Switzerland. He has participated in numerous alpine archaeology projects in Austria, Liechtenstein and Switzerland, e.g. the

Naafkopfprojekt or

Alpine Archäologie in der Silvretta.
IC-ArchPro
Universität Wien
co Vienna Institute for Archaeological Science
Franz-Klein-Gasse 1/III
A-1190 Wien
T: +43-1-4277-40304
E-Mail